In this post I'm going to talk about the Best Earphones Under 500 and it's all through these mobile accessories. The wired earphones are the most important mobile accessory as we listen to songs/make calls for hours and as you've read the title, Even I use wired earphones more than wireless ones because of their good audio quality. And they're cheap in terms of price as well! Today, I'm going to talk about such good quality earphones that are priced under Rs 500!
Best Earphones Under 500
I'm going to start with #5! But before that I'll quickly talk about the minimum criteria of these earphones.
Criteria – They should have at least 9mm drivers. Should be priced under Rs 500. The brands should be well known. So we've made a list keeping all of these criterias in mind.
JBL C50HI
They are perfectly balanced in terms of audio(Obviously, JBL!). They are so light weight! Doesn't even feel like anything! Their angled design helps them to fit into ear easily.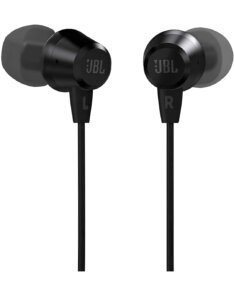 What's in the box : 1 pair JBL C50HI headphone, 3 sets of ear tips (S, M, L), 1 Warranty and safety card
They have 9mm drivers, are available in 3 colours. It's Ultra Lightweight and Comfortable with 3 sizes of ear tips from the well known brand, JBL and their price is Rs 499 with good audio quality. Also Haave Quick Launch Access to Google Assistant / Siri.
They Provide One-Button Universal Remote with Mic which is Noise Isolation Microphone and its Dynamic frequency response range (Hz) 20 Hz – 20 kHz. It Also Has High Fidelity Twin Cable with a tangle free design. Absolutely bomb set of earphones for this price range.
So looking at all things & features, then they're definitely at #5 in my list!
pTron Boom Ultima 4D
The name's amazing! And they come with passive noise cancellation which you don't get under Rs 500.
It's High Bass Dual Driver Earphones and They have 8mm drivers with Ergonomic Earbuds with Clear Voice & Stereo Sound Audio. It Has Built-in Mic with Volume & Music Controls. Even It Provides Voice Assistant and Universal 3.5mm Audio Jack which is Gold-plated. It's Cable Length is 1.2m, also Tangle-free wire.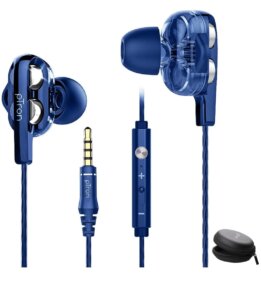 It is Widely Compatible with 3.5mm Aux Connector Devices & we've included them due to its good design & build quality and you get 2 different sets of 8mm drivers so they're 8mm but dual & so we've added them in the list. I've heard their audio quality & it's good. And their price is good at Rs 399.
So they come under Rs 400 & you get good different colors to choose. So they're impressive with a decent audio quality And that's why they're on #4 in our list!
BoAt Bassheads 242
It's time for the top 3 earphones.
If workout a lot & use them during your time at the gym then these are really good!
Because it has secure air hooks & if you're doing a lot of activities, then they won't fall off.
Secondly, it has 10mm drivers & boAt earphones are generally of good quality.
So overall looking at all things they're good at a price of Rs 499.
And you get 7 different colours with these. So if you want some funky coloured earphones, then do check these out!
Friends, if you want to listen to HipHop/EDM/if you're into heavy bass songs, then you should definitely check these out!
Realme Buds 2 Neo
You get 11.2mm drivers on these & its price is Rs 499 & it has 2-3 good things,
A microphone is present in all the listed earphones in this video.
And like I said these are heavy bass earphones meaning it has good audio quality,
but bass is more in their audio. So if you want earphones for bass, then do check them out!
It has a long 1.3m tangle-free wire with an in-line mic at Rs 499. Looking at all features, it's at #2 in our list!
And the #1 earphones are an overall package! If you work out or if you're a gamer & are looking for such earphones, then you can definitely check these out!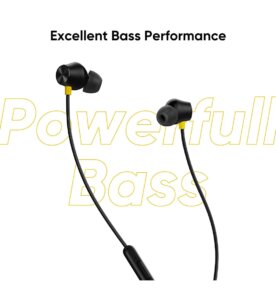 Boult Audio BassBuds Loop
I don't know why they keep such long names!?
You get an L-shaped connector, 12mm drivers & you also get ear loops for a secure fit as well! So if you're doing some activity/gaming/listening to music then you shouldn't have any problems.
These are definitely good & despite all the features, its price is Rs 400!(Rs 399) and the one thing about these earphones that isn't available in the others is that they're IPX5 certified! Meaning you can even use them during rains. And looking at all features, these come at #1 in my list! Yes It is the Best Earphones Under 500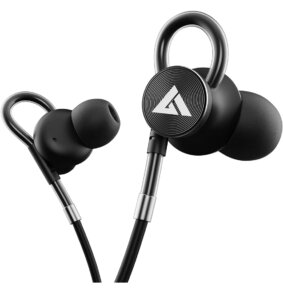 Also Read :
Xiaomi 12 Specifications | Xiaomi 12 price in india
Samsung Galaxy S21 FE 5G Review | Samsung Galaxy S21 FE 5G Price In India

So friends, these were the Best Earphones Under 500. If you have different rankings/suggestions then do COMMENT below! Also let me know if you agree with my rankings!